Projecto de Carregamento de Tubos

A Transportes Lalgy tem estado envolvida no transporte de tubos desde o início do mês de Agosto para o projecto Sasol em Temane.

Os tubos foram transportados do porto até ao armazém externo da Lalgy no Tchumene 1 e por fim, do Tchumene 1 para Temane, Inhambane.
Para cumprir o prazo, 8 camiões com mais de 10 tubos foram carregados por dia para Temane, totalizando mais de 17 grupos de camiões com viagens feitas até a data.

Pipe Loading Project
Transportes Lalgy has been involved in the transport of pipes since the beginning of the month of August for the Sasol project in Temane.

The tubes were transported from the port to Lalgy's external warehouse at Tchumene 1 and finally from Tchumene 1 to Temane, Inhambane.
To meet the deadline, 8 trucks with more than 10 tubes were loaded per day to Temane, totaling more than 17 groups of trucks with trips made to date.


Simulacro nas bombas Marliza, Matola

Foi realizado no 26 de Agosto às 14:00 horas, nas bombas da Total, na Mariliza, um exercício de emergência em situações de derrame.
Esta simulação foi realizada pelo departamento de HSEQ da Lalgy em parceria com a equipa de HSEQ da Total, juntamente com o gestor da bomba e com os motoristas da Lalgy.
Este evento teve um balanço positivo, pois foi possível verificar o nível de preparação do condutor, bem como do responsável pelo HSEQ nas bombas da Total, e avaliar os os aspectos que podem ser melhorados, em situações de derrame.


Drill at Marliza pumps, Matola
An emergency drill in spill situations took place on August 26th at 2:00 PM, at Total's pumps in Mariliza.
This simulation was performed by Lalgy's HSEQ department in partnership with Total's HSEQ team, along with the pump manager and Lalgy's drivers.
This event had a positive balance, as it was possible to verify the level of preparation of the driver, as well as the HSEQ manager at Total's pumps, and it was possible to assess the points to be improved, in spill situations.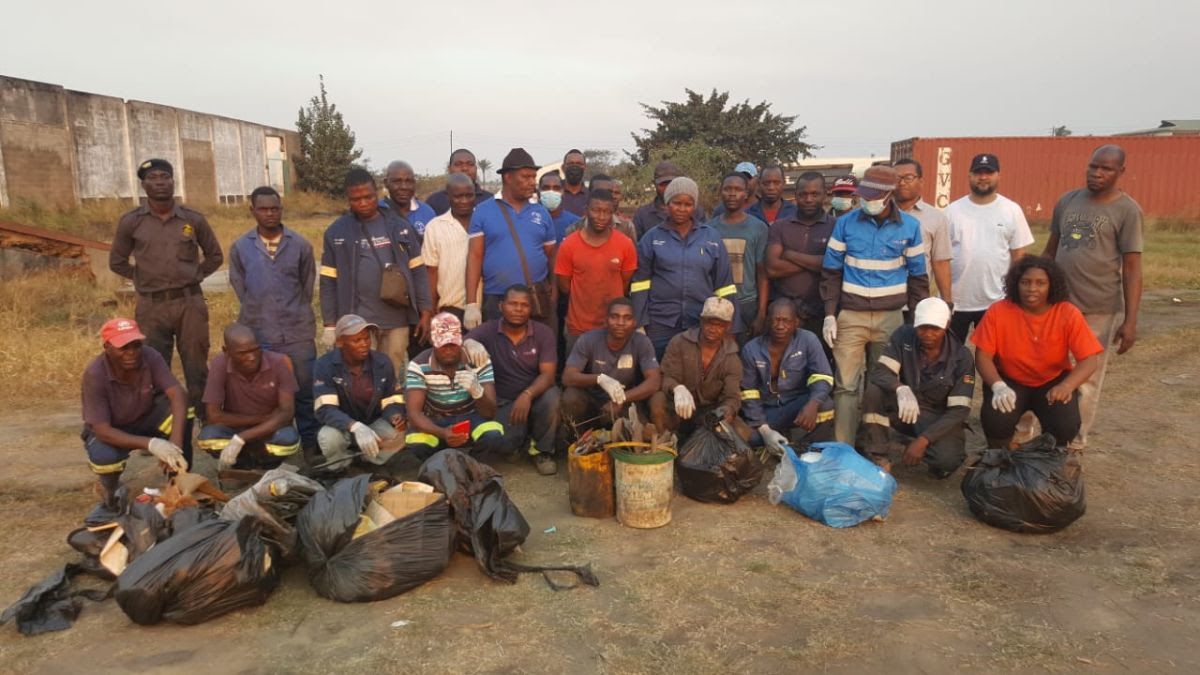 Dia da cidade da Beira
No contexto das celebrações do 115º aniversário da cidade da Beira, a delegação da Lalgy da cidade da Beira levou a cabo uma acção social na qual reuniu trabalhadores para recolher resíduos sólidos espalhados na cidade.

Esta acção social mostra a preocupação que os trabalhadores da Lalgy têm pelo bem-estar do seu ambiente.


Beira City Day
In the context of the celebrations of the 115th anniversary of the city of Beira, the delegation of Lalgy in the city of Beira carried out a social action in which gathered workers to collect solid waste scattered in the city.
This action shows the concern that Lalgy's workers have for the welfare of their environment.




Visita do Presidente da Concelho Municipal da Beira
No dia 30 de Agosto, a delegação da Beira recebeu uma visita de trabalho do Conselho Municipal da Beira, na qual foram apresentadas as instalações e a rotina de trabalho diário.

Esta visita teve como objectivo principal fortificar as boas relações entre a Lalgy e o Concelho Municipal da Beira.

Visit of the President of the Municipality of Beira
On the 30th of August, the Beira delegation received a working visit from the Beira Municipal Council, in which the facilities and the daily work routine were presented.

The main objective of this visit was to strengthen the good relations between Lalgy and the Municipality of Beira.




Kimiss Zavala, um dos maiores talentos do futebol Moçambicano e formado no Black Bulls, e reforço do Marítimo
O internacional moçambicano, de 18 anos, vai integrar a equipa B do Marítimo que milita no Campeonato de Portugal.

Kimiss Zavala é campeão da Cosafa 2020 pela seleção nacional sub-20, prova na qual foi considerado o melhor guarda-redes sem sofrer qualquer golo. Além destes títulos, Zavala foi campeão do Moçambola 2021 pela Associação Black Bulls, com 17 anos e conquistou ainda vários títulos nacionais com destaque para os campeonatos nacionais de Juvenis e Juniores, respectivamente.


Kimiss Zavala, one of the greatest talents in Mozambican football and trained in the Black Bulls, and reinforcement of Marítimo
The 18-year-old Mozambican international will join Marítimo's B team that plays in the Portuguese Championship.

Kimiss Zavala is Cosafa 2020 champion with the national under-20 team, a competition in which he was considered the best goalkeeper without conceding a goal. In addition to these titles, Zavala was champion of Moçambola 2021 by the Black Bulls Association, aged 17 and also won several national titles, with emphasis on the national youth and junior championships, respectively.